Magento is an open-source e-commerce platform created in 2008 by Magento Inc. It acts as a shopping cart platform and content management system (CMS) and allows you to develop customizable e-commerce sites and manage content, catalog, and marketing.
Choosing Magento solutions for e-commerce store is a good choice in the e-commerce sector because it is the top platform for small and medium-sized businesses worldwide. So, which ecommerce platform is best for SEO? Well, it's Magento, but in this article we'll dig deep and see exactly why.
Magento ecommerce store management is best suited for medium and big businesses because it is sophisticated and necessitates the involvement of an IT staff in the construction and management of the shop.
It provides a wide selection of Magento eCommerce SEO solutions to businesses looking to enter the Magento online marketing with certainty and confidence. While Magento grows your online business, it's essential to focus on eCommerce SEO and perform a Magento SEO Audit.
Advantages of Magento eCommerce platform
Easy installation and use
You don't have to worry about how to use Magento ecommerce since installing and using Magento is not difficult, nor does it necessitate the acquisition of sophisticated technical knowledge in order to launch an online store.
The platform makes use of a straightforward and intuitive administration panel, which significantly simplifies the access and usage of all of its features and functionalities. Additionally, plugins can be used to add drag and drop functionality and visual design.
Advanced management of the product page
When it comes to online shopping, the product page is one of the most crucial parts which you can never skip while doing the Magento SEO audits.
With Magento, you can create an advanced product sheet that has all of the information essential to assist the customer in making a purchasing decision (title, description, images, videos, related products, etc.), and this can be vital for your ecommerce Magento SEO.
Allows you to handle a large number of products
One of the main reasons why Magento is best for ecommerce is beacuse it's designed to establish large online businesses that can manage a significant volume of products and handle a high volume of web traffic, among other things.
Magento based sites can support up to 1 million products and process up to 80,000 orders per hour, astounding numbers that distinguish it as the most powerful content management system (CMS) on the market, making it suitable for tackling massive eCommerce production projects.
SEO positioning and responsive design
In the Magento eCommerce development, audit SEO Magento should be taken into account. Therefore, the stores created using this platform are more favorable to the different search engines, notably Google and getting on the 1st page on Google.
When establishing a Magento eCommerce website, it will be easier to rank the site in the major web search engines, improving the visibility of the company online and increasing its profitability. Of course, you will first need to do a complete Magento SEO Audit to rank better.
Magento also allows you to create an online store optimized for mobile devices by using their unique properties (such as touch screens and their reduced size), which is yet another advantage of Magento based websites.
Because of Magento's responsive design, clients may purchase in the online store while still having a positive user experience when they do so from their Smartphones. This is yet another reason why it is one of the best ever SEO platform ecommerce sites.
Integration with other tools
One of the most significant advantages of Magento eCommerce platforms is its ability to integrate with a third-party Magento eCommerce solution, allowing you to manage your store better and match it with the rest of your business.
Businesses that currently have physical stores will find it easier to incorporate their online commerce Magento operations into their existing business structures when using Magento.
Customers' behavior can be studied, and store statistics can be consulted using Magento, which integrates seamlessly with Google Analytics for business management and customer relationship management and other ERP business management solutions and customer relationship management systems (CRM).
It has a high level of security
Security is one of the most crucial parts of any online business since it is necessary to provide the consumer with a safe and dependable environment in which to enter their banking and personal information.
Because Magento is equipped with several security mechanisms and features, you may make use of the most popular payment gateways in a safe and secure manner.
Furthermore, because it is a project that is constantly being developed, it receives regular upgrades that include security patches to reduce vulnerabilities and the addition of new security features as they become available.
Facilitates up-selling and cross-selling
Magento eCommerce platform turnover can be increased by employing advanced selling strategies, which the platform encourages.
Including Magento similar products to stimulate cross-selling and applying up-selling methods to sell the most expensive and highest profit products are both simple and straightforward tasks with Magento.
Can't Get to the First Page on Google Results? Get the Content Audit Template and Find Out Why Today
GET NOW
Advanced multi-store management
In terms of building and maintaining many stores from a single administration panel, Magento outperforms the competition compared to the other platforms used to establish online stores.
Magento is designed to allow you to manage multiple online stores in a straightforward and consolidated manner; therefore, Magento multi store SEO is also important to get ahead of competition.
If you have multiple online enterprises or if you acquire a competitor, Magento eCommerce platform is the right solution for managing multiple eCommerce sites in a single, centralized environment at the same time.
Improving SEO with Magento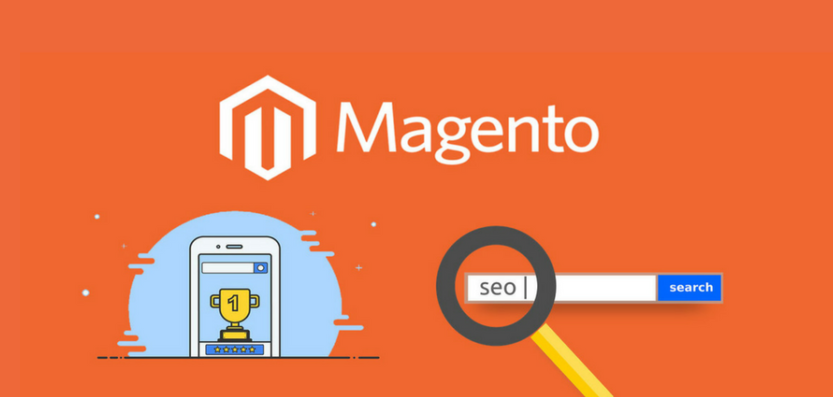 E-commerce Magento has a tendency to generate tags and headings on its own, which might be counter-productive.
Take your time to carefully complete the meta tags of all your pages and products, as these elements can cause your pages in Google results to receive more clicks than your competitors' pages, i.e.; they receive a high click-through-rate (CTR), which in turn has a positive impact on the ranking of your Magento store.
Poorly optimized URLs
Canonicalization
For those who are unfamiliar with the word, it refers to selecting the most appropriate URL while avoiding duplication.
Duplicate content is yet another of the most formidable adversaries of online retailers, particularly those with extensive product catalogs. Magento is the best platform for content for ecommerce, but you always have to be careful with duplicate content.
It would help if you used the canonical tag to accomplish this and prevent having products or their cards repeated, as may occur when delivering several versions of the same product.
Example: A sweater marketed in various colors or categories with different product groupings but no further information to distinguish between those pages.
Too long URLs
Sites that use SEO ecommerce Magento can include in the URL each category and subcategory to which a product belongs, which is a beneficial feature in theory but can lead to the problem of URLs that are too long. You should consider this issue while performing your Magento SEO.
If multiple variations of a product are generated in separate categories, the use of hierarchical URLs may cause a conflict between the variations. Furthermore, it has a negative impact on its indexation by search engines because it makes it harder for them to determine which page is the primary page.
Ecommerce website Magento also has the issue of generating identical pages in terms of name and content, followed by a number, depending on which navigation path the consumer has taken.
The guideline is always that each product and its URL should be distinct and required every time a consumer wants it while exploring a page on the website.
Use the NoFollow tag
This is among the most excellent SEO techniques since it prevents search engines from becoming dispersed among the multiple URLs established in Magento and allows Google to concentrate on the pages that are truly valuable to users.
If you include the redl= "no follow" attribute in your links, you instruct Google not to follow the link in that direction or index the destination page.
Returning to the sweater example, it is usually preferable to place the main page of the sweater rather than attempting to position each page generated with the same garment in different colors or sizes for your Magento eCommerce store.
Duplicate pagination
Depending on the number of available products in a category of our online store, it may be necessary to create multiple category pages, which may result in duplicate content difficulties.
In addition to the usage of the tags rel="next" and rel="prev" on these pages, we recommend that you use robots "noindex, follow" on these pages so that Google can better understand the structure of your site.
If search engines can reach your site more efficiently, this will positively impact your site's search engine ranking, so your SEO for Magento ecommerce will be much more effective.
Famous brands and websites that use Magento eCommerce platform and stand out from their competition
Because e-commerce has emerged as the most dynamic business, it has received a great deal of interest and competition among merchants who already have or plan to develop an online presence.
People who use Magento as their e-commerce platform are the most successful in that they have the flexibility to extensively personalize their e-commerce site to meet the specific demands and requirements of their customers.
Most online stores that use Magento update their sites to the most recent version available. This is how Magento implements and improves its native features and functionality and provides a better user experience for admin users to help them run a successful e-commerce site.
Magento is not just used by medium- and small-sized businesses, but international corporations are also employing it with billions of dollars in annual revenue. So, let's see who uses Magento ecommerce.
Nike
There are many websites using Magento, and one of the most popular ones is Nike, which is a well-known brand in the sporting goods business. The company selected the Magento eCommerce platform to develop its e-commerce store.
Users will find Nike's online store extremely interesting and dynamic and give a better customer experience; the company has included a product configuration tool in its web stores.
Aside from that, clients can use this tool to design the appearance of their products, such as shoes. Because of the high quality of the final designs, clients are not put off by the shipping time, no matter how long it may be.
Maybe some will be surprised of what eCommerce platform does Nike use, but don't be since Magento is at the top of the game.
Land Rover
Land Rover is one of the most well-known automobile manufacturers in the world. The company also sells various accessories, including sweatshirts, vests, jackets, shirts, polo shirts, and hoodies, which are available for purchase by customers.
Land Rover employs over 275,000 people through its retail locations, suppliers, and other local businesses, making it a top-rated Magento based eCommerce website. In addition, this goes to show that the best platform for SEO for retail is certainly Magento.
The Magento-based website for this company exemplifies clean, transparent design with well-structured blocks and a high-performance load time.
HP
HP Inc. is a multinational corporation that specializes in the manufacture of notebook computers, workstations, printers, including LaserJet and InkJet printers, as well as 3D solutions.
To suit the needs of a diverse spectrum of HP consumers, the business decided to run its stores on the Magento eCommerce platform, which is both versatile and powerful. Its clients range from people looking for a personal computer to entrepreneurs seeking specific corporate solutions.
The easy-to-read fonts and straightforward layout of the main catalog page do not distract the user but rather convey the essential product information possible.
Nestlé Nespresso
Another Magento based website is Nestlé, which is one of the world's greatest corporations, best known for producing world-renowned Nescafé coffee. Nestlé Nespresso began utilizing Magento for its e-commerce site in 2009.
Customers can purchase renowned coffee beans from this Magento store and high-quality coffee machines, making it also part of the best Magento websites.
This website's mobile version is likewise quite impressive, and the design of the website is really appealing, user-friendly, and intuitive.
Canon
You do not have to be a professional photographer or enthusiast to be familiar with Canon, which is one of the best websites using Magento.
A well-known image company that encourages amateurs and professionals worldwide to travel the world and document their experiences via photography.
Canon created a new Magento-based online store in 2013 to allow its customers to purchase products straight from its official website.
Backpacks, tripods, stabilizers, and other photography accessories from partner businesses can be found on the site and on Canon's own items.
The store, which is tastefully furnished, is an excellent photographic resource, providing a comprehensive selection of services and products and instructional videos, reviews, and photo albums.
Visitors may quickly determine whether or not a product is compatible with another, which is in high demand, particularly among photography enthusiasts.
The companies listed above are some of the best Magento eCommerce sites worldwide. And if you have doubts about why use Magento for ecommerce, well, the companies above show you that's a rhetorical question.
Conclusion
So, if you ask yourself; is Magento a good eCommerce platform, the answer is simple.
Magento is one of the most widely used e-commerce platforms available today and there are many Magento ecommerce websites. Putting up a huge online store with thousands of products and a high volume of web traffic is the best platform to use.
Some Magento projects are complicated, requiring a higher initial investment than other alternatives available on the market. However, the results gained are superior in performance, security, and scalability to those acquired with other alternatives available on the market. For having the best Magento small business agency or medium and large business is certainly one of the best choices. Therefore, it doesn't matter if you want a Magento small business agency or a large one.
In the case of an eCommerce project, Magento eCommerce platform is unquestionably one of the most significant platforms available on the market. It is a robust and adaptable platform that can be used to construct any type of eCommerce project, for which you should also perform a complete Magento SEO audit.
So, when it comes to the worst ecommerce platforms for SEO, Magento is not on the list, but when it's about what ecommerce platform has the best SEO, well, Magento leads the way!
To explore other ecommerce platforms and learn how you can perform an SEO audit on them, take a look at the following blog posts: