BigCommerce is an eCommerce platform with many tools for search engine optimization, online stores, hosting, and user SaaS services. It can be a great solution for any size of business, from small home-based companies to enterprise-level firms.
When we talk about eCommerce SEO practices, it's important to note that it's an ongoing effort, and you shouldn't give up on the rankings. No matter if we talk about SEO for BigCommerce or any other platform, the basics are the same, like:
Consistent SEO-optimized URL structure
Metadata in BigCommerce on point
Optimized page titles
Enabled breadcrumbs
Tidy category descriptions
Concise meta descriptions
BigCommerce comes with decent SEO features you can use to optimize your online store. It's an excellent choice for all those merchants who need to use advanced SEO features to enhance their business.
The Main Features of SEO for BigCommerce
BigCommerce is one of the services that offer growth no matter the size of your business. It provides a user-friendly interface with exceptional SEO tools you can use for an initial bigcommerce seo audit.
After that, you can hold onto seo bigcommerce features such as:
SEO-friendly URLs for every category and product
Unique URLs with no risk for duplicates
Microdata, i.e., rich snippets for detailed listing information
301 redirects which are quite helpful if you change the name of the product
CDN, or content delivery network, to make sure your site loads quickly enough
Any seller must perform a bigcommerce seo audit first before taking the improvement steps. It's important to remember that the whole thing must be focused on potential buyers. SEO's purpose for BigCommerce is to take the shoppers on a journey until they decide which destination is their favorite.
It's even the same as any other eCommerce platform. You can't enhance your Wix strategy without a Wix seo audit, and you can't expect your WordPress site to rank better without first performing a WordPress seo audit.
That's why you should focus your SEO efforts on the shoppers, not search engines.
If you want to participate in active discussions about optimizing an e-commerce site, head to our Facebook group SEO and WEB Tips to Scale Your Business.
Become part of the discussion
Is SEO for eCommerce Different from General SEO?
Even though the purpose is different, the final goal is the same. You can use any eCommerce platform you prefer, and the SEO implementation will have the same goal – to help you rank your store on Google's first page.
The BigCommerce SEO can help you get the ranking you deserve. But, the approach is different because you focus only on the store and products, and the goal is to sell (besides ranking higher on SERPs).
According to that, we have some interesting tips you can use while performing BigCommerce SEO audit and implementing the strategy.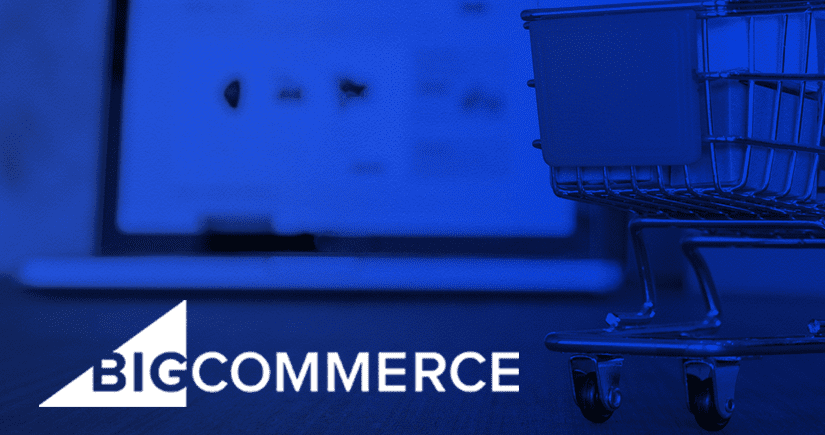 1. Register the BigCommerce store with GSC
Google Search Console (GSC) is a must, regardless of your eCommerce platform. This way, you are telling the search engines you have a website that has a specific location and ensure it's crawled.
Additionally, if you use Bing, you have to register it with Bing Webmaster Tools.
Even the most experienced bigcommerce seo experts check twice if they integrated the site with these services.
Don't forget to submit your XML sitemap to them. BigCommerce can generate it for you, and you can submit it to GSC and/or BWT easily.
2. Check on the Store's Loading Speed
If you compare general SEO and bigcommerce seo optimization activities, you will see that site speed is among the essential ones.
Even though the platform offers hosting and site templates, most bigcommerce seo service providers suggest you buy your own hosting space to enhance the site speed. Additionally, you can do these things to boost the loading speed:
Compress the images
Use minimum custom code and scripts
Use only the third-party apps you really need
Use safe web fonts for lower loading time
When combined, these things can speed up the loading of your site. Don't forget to add this one to your bigcommerce seo audit checklist, because it's a pretty essential thing.
3. Pay Attention to the SEO Titles
Search engines immediately crawl the titles as one of the most critical SEO signals. Titles contain enough information on how to categorize and rank the content.
If you search for something on Google, you will see that the title is the focus part of the results.
Every bigcommerce seo expert will suggest you take the focus keyword and build a nice title around it.
For example, if you want to promote your bigcommerce seo guide, you need to focus on a few important elements when creating the title:
The fact that BigCommerce is an eCommerce platform
The purpose of the guide (i.e., ranking higher on search engines)
How to rank the site (using search engine optimization)
The form of the blog or article (guide, tutorial, tips, etc.)
Now you are ready to come up with great SEO titles like:
How to Rank Your BigCommerce Page Using SEO for eCommerce, or
Ecommerce SEO Guide to Help Your BigCommerce SERP Ranking
Google today understands the meaning, so using a specific query is not that strict. But, you still have to tell Google your purpose using the SEO title.
So, make sure the titles are compatible with the store and products you sell to ensure search engines register the signals.
Additionally, when performing a bigcommerce seo audit, ensure you edit and adjust the titles for static pages, blog posts, and product pages.
4. Use the Headings Properly and Consistently
Breaking up the content is not a bad thing. When using platforms like BigCommerce it is vital to apply the headings properly, to "break up" the text. Avoid using bold, or caps lock to highlight the subheadings.
Using H1, H2, etc., makes the content visually consumable for the readers. And more importantly, you make the BigCommerce SEO elements consistent and crawlable.
Helpful Tip: H1 doesn't need to match the page title exactly since search engines may consider it over-optimized.
When creating content for your BigCommerce site, make sure you add the headings in Word or Google Docs because the in-built text editor doesn't support the heading options.
5. Be Accurate With the Meta Descriptions
Google says meta descriptions aren't necessarily a key ranking factor, but they can increase your CTR (click-through rate).
So, be concise, keep it short and accurate, and include the focus keyword as naturally as possible.
Even though it's not a key ranking factor, you have better conversion rates when CRTs are higher.
Pay attention to all pages' meta descriptions, even though BigCommerce tells you exactly where to put them.
6. Optimize the Image alt text
Images are a ranking factor, so make sure you enter a descriptive alt text containing the keyword, if possible.
Avoid using generic names like image005.jpg, or headerphoto.jpg. These titles don't say anything about the image and its relation to the content.
This way, search engines understand the content better. Even if the image doesn't load due to a poor internet connection, engines will know exactly what's on it.
BigCommerce allows you to add image descriptions to all the uploads that still have a generic name.
Recap on Our Tips for a BigCommerce SEO Website Audit
When running a bigcommerce seo audit, you have to make sure everything is compatible with your pre-ready checklist. After that, you know what to do and what to expect while improving the current BigCommerce SEO strategy.
Surely, there are plenty of SEO signals and elements you shouldn't miss, but these are the basic ones you can do yourself. For any other struggle with SEO implementation, you can always hire a bigcommerce seo agency to put the things together for you.
To explore other ecommerce platforms and learn how you can perform an SEO audit on them, take a look at the following blog posts: