Content marketing has always been a huge part of the online strategy for success for every business. This includes the SaaS companies, too. In fact, content marketing is arguably the best way for a SaaS company to attract and educate the qualifying leads, converting them into clients. With a powerful SaaS content marketing strategy, the SaaS company will build an audience interested in its services and strengthen its online visibility and rankings. After all, the SaaS industry is becoming more and more competitive each day, and the necessity for offering and presenting quality is vital.
SaaS Statistics That Prove the Harsh Competitiveness on the Market
The Software as a Service niche in the IT industry is relatively young because it started thriving when the Internet became a global commercial network in the 1990s. In this period, savvy IT techs saw the opportunity to build companies that will give software services to other companies the Internet. So, starting in the 1990s, the SaaS companies combined the essentials for an online business to succeed and sold that directly to online business owners. The incredible success followed through.
Analysts made huge projections when it came to future revenues of the industry, estimating billions of dollars. It wasn't even surprising that by 2018, the SaaS company surpassed the revenue processions by 10% and reached the $100 billion mark.
Of course, Microsoft has always been a market leader, as it is safe to say that it introduced computer skills and tech literacy to the world. Later, Apple changed the game, but the market saw a vast expanse, and lots of other SaaS companies entered the competition.
Today, the SaaS world's three giants are considered to be Microsoft, Salesforce, and Adobe. By 2022, it is expected that the SaaS industry will surpass the $157 billion mark.
How competitive the SaaS market is, tells the statistics fact that four of five businesses in the US only already use at least one SaaS application. The two greatest benefits for companies from SaaS companies are agility and scalability. These two benefits facilitate the decision for 93% of the CIOs (Chief Information Officers) to adopt or plan a cloud SaaS.
Why is the SaaS content strategy different from the rest?
Why there is a need to differentiate between the content strategy planned for a SaaS company and any other content strategy for an online business? one might wonder. Aren't the strategies individually unique? The answer is yes and no.
While the content strategy for any other online business follows specific unwritten "rules" of SEO optimization, the SaaS content marketing focuses primarily on giving information about how the service works. This means that the focus is on raising awareness about the brand and the services and providing information about the benefits of using these services. Or, talking in a more tech language, the b2b content, especially the SaaS content strategy revolves around the information intent of content even though this first part of the funnel is considered a low selling point.
Regardless of being a low selling point, the first phase of the funnel enables the searcher to get educated and well-informed about the service they need, thus leading to making a purchase. Add to it the strength of the brand and its reliability when quality and informative content is being published, and you have the lead transformed into a qualifying lead in a matter of seconds. Nurturing this lead takes them through the funnel's other phases, again, with content that they need to facilitate their decision-making process. Finally, you have a qualifying lead converted into a client.
SaaS Content Marketing: Where and How to Start?
It is the most important question: How to begin planning your SaaS content marketing strategy? Even though many SEO experts recommend a few approaches, there is one that we swear by: the customer's journey map. It all begins and ends here. Let's elaborate.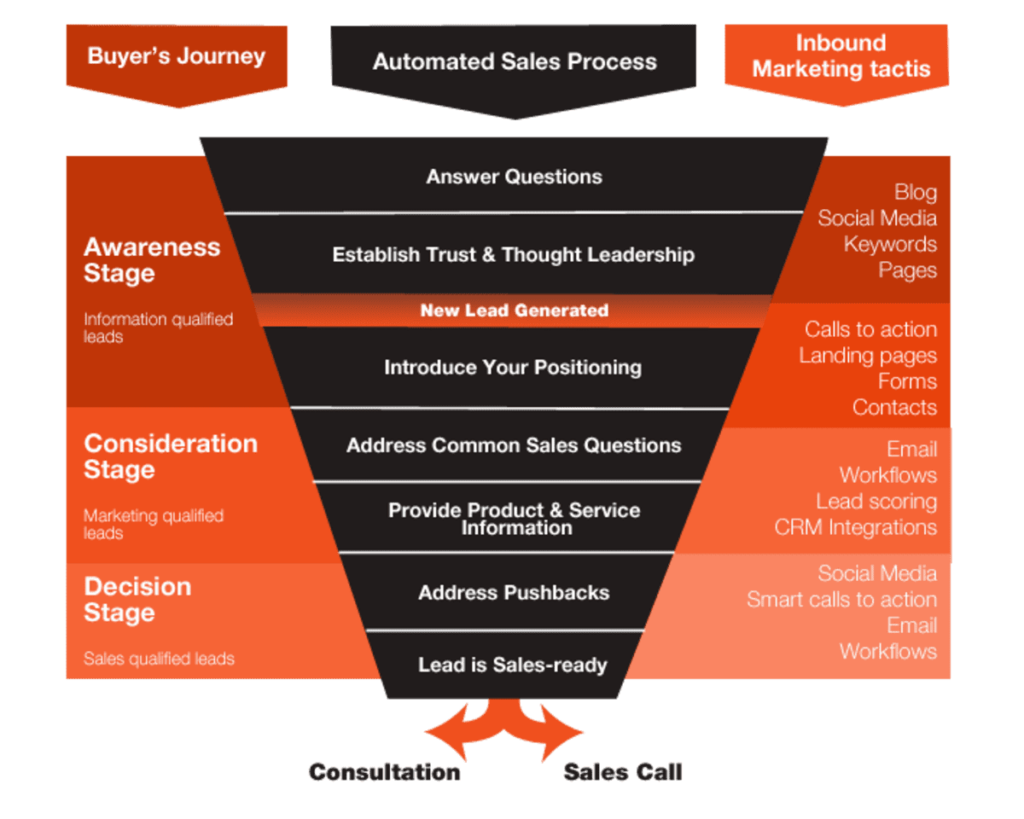 A general customer's journey map consists of
Targeting the ideal client
Raising awareness by promoting the services
Let the target client search and explore you
Lead them to your website where they can get all the information they need and all the answers to questions they have
Show them your reliability and trustworthiness valued by your past and present clients
Offer them a deal they can't refuse, for example, completing the buying circle.
When it comes to SaaS companies, the customer journey map looks the same, with a significant difference – you need to attract the target client directly to your website where they can explore and get all the info about you and the services and offer them a trial or a demo version of your service. That is why having quality content on the site that ranks for the relevant keyword phrases is extremely important.
Moreover, this means that you need to approach the potential client when they are in their awareness phase (when they are thinking that they are only scooping info) and convince them that you've got what it takes to help them achieve their goals.
However, this doesn't mean that the first phase is the only phase you need to focus on. Yes, it is the most important, but the others are still relevant. In fact, you need to create a content plan for each of them. Here is how to do it.
Creating SaaS Content Plan for Each Phase of the Customer's Journey
Start planning the content with a single goal: offer quality and reliable information at all times. Focus on the top of the funnel – the awareness stage to attract potential clients but continue creating quality content until you reach the bottom of the funnel – the decision-making process. This is important as the nurturing of the leads throughout the process will help them make a decision. Now, let's take a look at how you need to approach each of the phases:
Building Awareness
Choose the most relevant and general keywords that have lots of searches and use them in your content. Provide informational, engaging, and educational content where you will offer answers to the questions and problems you know your target clients have. Better yet, you can explain how your service can help solve their problems without sounding it a selling material. For that purpose, your website must offer a superior user experience and you simply can't allow for the website not to be working. In fact, a Saas website not working might prevent you from completing your content marketing for your SaaS company.
Generating Leads
The next step is creating content that will lead the potential client to explore your website. You can create lead magnets containing free, gated content of high-value placed on your optimized website. In addition, you can start with a cold email Saas campaign where you can send nurturing, valuable content to the subscribed leads.
Trial or Demo Version
Once you've hooked them on your website, give your potential clients a peek into how your Software works. Whether it is a free trial or a demo version, let them see what kind of problem they can solve with your Software. In this way, you attack hard in their consideration phase and lead to the decision-making phase.
Making a Decision to Purchase
After the trial, provide the potential client with content that will be so convincing that they won't have any other option than completing the buying cycle. This content needs to help them find out how using the software tools will solve the exact problem they have. Also, don't forget to add a bit of scarcity here – meaning, make a limited-time offer they can't refuse.
Beyond the Purchase
The lead has converted. Now what? The nurturing doesn't stop here. Instead, to gain their ever-lasting trust, you need to help them successfully use the Software. This includes a full customer support service and creating content that answers their questions while using your services.
It's All About the Quality Content – But What Does It Mean Exactly?
Quality website content – it is easier said than done, obviously. Even with the research of keywords and following the writing trends, how does Google know you have quality content, and even more important – how does your target leads decide you can help them? The answer to this is not following an SEO-optimised structure and pattern of content, even though it had and perhaps still has an impact on the rankings. No, the answer is creating content that feels and is natural to the reader. Content that contains an explicit explanation of their problems and offers hands-on solutions or suggestions for improvement.
Plan, write, double-check, support with facts and make sure you update your old content with always new and fresh information. Here are some ideas of what you can do:
Share the blog posts on your social profiles: Facebook, LinkedIn, Twitter, etc. This way, you get to expose your content to as many people as possible right after publication. You can also tag in your description info any related person mentioned in the text and try getting a broader reach from their followers as well.
Another use of your blog content is sending it in chunks in your cold email campaign to the subscribers.
Transform your content into videos and get to an even broader audience by being part of the video platforms.
Don't be afraid to be a part of webinars and conferences as well.
In this way, the SaaS content marketing will get to its targeted audience. There are several more things you need to keep in mind. Let's call them do's and don'ts of creating SaaS content marketing.
Do's in Creating SaaS Marketing Content
Clarify the Target Consumer or the Content
To do this, you need to find out which are the pain points of your target audience, what are their needs, and how can your Software help them reach their business goals. You need to define the buyer's persona and the key message that will speak to them. Another thing you should always strive to maintain is to make your content consistent.
Make sure you allocate the sum of money spent on planning and executing the Saas content marketing plan. It is always better to leave the planning and execution to pros like a SaaS content marketing agency that will know how to use the budget optimally.
It is not enough to just create content and let it be. No, you need to do a lot more, including keeping a close eye on how it performs and what kind of results it achieves. You can do this by using a content management system to track the milestones from creating the content to attracting leads and converting them.
In the plan of content creation, always strive to be original, unique, and natural. But, also, don't forget to optimize it thoroughly. Again, a skilled SEO content writer will be able to do that, so having such an expert in the team is of enormous importance. Furthermore, make sure you have an optimised website when it comes to all other aspects of SEO rules.
Aim for Evergreen Content
When it comes to SaaS, evergreen content is all the help you can provide in written form about using your Software to your target readers. Blogs, e-books, videos, and guides with informative and instructional content will be relevant even after years after publishing.
Don'ts in Creating SaaS Content Marketing Plan
The things you shouldn't do in the process are also tightly connected to the do's from above. Let's see.
Don't Lie about the Key Message
Don't say what the target clients want to hear if you don't have enough facts and data to support your arguments. Doing this will be misleading – you will make them believe that you have the answer to your questions when, in fact, you will be tip-toeing around the possible solutions without offering them a clear view into the matter. This might end in dissatisfaction and disappointment on the client's part, and they will no longer deem you reliable.
Don't Plan the Budget on the Way
Plan it at the beginning, without any excuses. If you don't, there will be great chances that you won't have enough money to cover the marketing efforts' expenses, and the planning of the SaaS content strategy will be in vain. You need to know from the very start how much your budget can allow for this important aspect, and once it is defined, you need to keep to the numbers.
Don't Overdo SEO – Optimization
This means that you should always remember to create content for people and not for the search engines because, even if it is hard to believe, the fact is that the search engines are beginning to think more and more like humans.
Don't Put Out Content That Is Too Broad or Too General
Again, your content must always be straightforward, on-point, and offering a real solution to a real problem. Everything else is tip-toeing and getting on the nerves of the target audience.
Some Final Words
Creating a content strategy for b2b companies, including SaaS companies as one of the broadest niches in the same market, takes careful planning and execution. WordPress for SaaS as a platform will help you a lot when creating a plan by yourself. However, usually, a content marketing agency is an excellent fit to take care of the strategy, but an in-house content strategist is a suitable option as well. The focus should always be the awareness phase of the customer's journey map, where targeting the potential clients' needs and problems are the right source of content inspiration. Then, nurturing the leads throughout the funnel with high-volume, gated content follows and supports the B2B SaaS content marketing plan with the end goal – converting the leads and completing the purchasing circle.