The opportunities are endless, particularly if you are taking into account the online landscape. The risks and the stakes are high and time and money are never enough to test every online opportunity that might be fitting for your company. Forming a digital strategy will give you the feeling of direction and confidence you need to keep up with the fast-paced online environment. Creating a consistent vision and direction will guarantee that everyone is on the same page and striving towards reaching the same goals and objectives.
At SmartClick, our inclusive and coherent website development and SEO services will get your business firmly placed on the first page of Google search results. We're a small team of bold, professional, and reliable experts working hard to craft, optimize and design the perfect website every time. Our passion for creating online technology solutions is incomparable. We take pride in each project, and becoming business partners in growth with our clients is always a mutual satisfaction.
We recently received our latest review on Clutch, a B2B ratings and reviews platform, with a 5-star rating to boot. Simber Chauffeur Services, a chauffeur service provider, wanted to increase their clientele reach worldwide through SEO services. Their goal was to increase brand awareness and traffic to their newly launched website locally and internationally.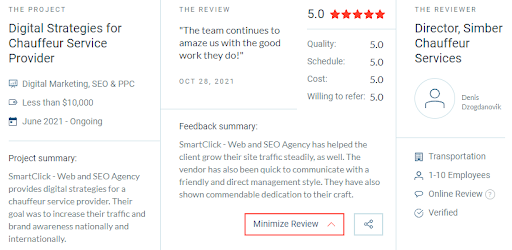 We handled everything from researching the client's business, competitor analysis, relevant keywords research, content writing, and blog posts. Take a look at what they had to say about working with us:
"Our site traffic is growing steadily, we are receiving higher volumes of inquiries, and our social medial has consequently received new followers / engaged community as an effect from SEO." – Denis Dzogdanovik, Director, Simber Chauffeur Services
In addition to this fantastic review, we are also featured on Clutch's sister site, Top Design Firms, as a leading WordPress website developer. If this is your first time hearing of Top Design Firms, TDF compiles and organizes B2B companies offering marketing, design, and development services. It aims to help buyers find the right company for their project.
Are you looking to elevate your website's search engine rankings? Contact us today!